Every country has its most special event so with China it is the Spring Festival which is the celebration of Chinese New Year.
Our source, China Highlights seen through Google tells us "Chinese New Year, also known as Spring Festival in China, is China's most important traditional festival. It is also the most important celebration for families, and a week of official public holiday."
The Date of Chinese New Year
Chinese New Year 2016 is on Monday 8 February.
The date of Chinese New Year is based on the Chinese lunar calendar, not the Gregorian calendar, but is always somewhere in the period from January 21 to February 20. Read more on Chinese New Year dates from 2016 to 2027.
Chinese New Year — Joint Longest Public Holiday in China
In 2016, most Chinese will be off work 7 days from Sunday, February 7 (New Year's Eve) to Saturday, February 13 (Chinese New Year day 6).
Although there are many interesting legends and stories explaining the start of the Chinese New Year festival, the main two reasons for the festival are:
To celebrate a year of hard work, have a good rest, and relax with family
To wish for a lucky and prosperous coming year
Chinese people believe that a good start to the year will lead to a lucky year. Chinese traditionally celebrated the start of a new year of farm work, and wished for a good harvest (when most were farmers). This has now evolved to celebrating the start of a new business year and wishing for profits and success in various vocations.
2016 — a Monkey Year: Watch Out "Monkeys"!
2016 is a year of the Monkey according to the Chinese 12-year animal zodiac cycle. Other Monkey years include: …1944, 1956, 1968, 1980, 1992, 2004… If you were born then you're a Monkey. Each Chinese zodiac year begins on Chinese New Year's Day.
Like Christmas in the West, people exchange gifts during the Spring Festival. The most common gifts are red envelopes. Red envelopes have money in, and are given to children and (retired) seniors. It is not a customs to give red envelopes to (working) adults, except by employers.
Red envelopes are used in the hope of giving good luck (as well as money) to the receivers.
Eating Lucky Foods for Increased Luck in the Year Ahead
Certain foods are eaten during the festival (especially at the New Year's Eve dinner) because of their symbolic meanings, based on their names or appearances.
Fish is a must for Chinese New Year as the Chinese word for fish sounds like the word for surplus. Eating fish is believed to bring a surplus of money and good luck in the coming year.
Other Chinese New Year foods include dumplings, spring rolls, glutinous rice cakes, and sweet rice balls.
Praying in a Temple to Receive a Year-Long Blessing
Praying in a temple during Chinese New Year is said to be a particularly blessed activity, and will lead to a smooth coming year. In Shanghai, China's biggest city, thousands flock to Longhua Temple, the city's biggest temple, to pray for good fortune.
Things You Must/Mustn't Do to Avoid a Year of Bad Luck
As Chinese people believe that the year's start affects the whole year, are many superstitions and taboos for the Spring Festival season. These taboos usually apply up to a month before the festival and continue to the end of the festival (day 15, the Lantern Festival).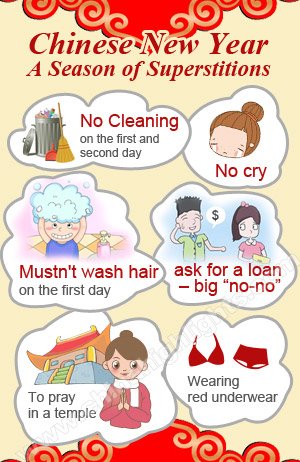 Some Chinese people believe that they mustn't do cleaning or wash their hair in the first three days as that will sweep/wash away good luck.
A cry of a child is believed to bring bad luck to the family, so the young are placated fastidiously.
No begging: To ask for a loan is a big "no-no".
Another interesting thing is the red underwear…
You will see red underwear sold at supermarkets and street markets. Red is believed to ward off bad luck and misfortune. For people born in a year of the Monkey, red underwear is a must for 2016!
Let us go back to our main query: What is in store for you?
Being a retired teacher myself and a person who has lived for more than 6 decades, a New Year is another year to look forward to. Whatever has happened in the past, "LET IT GO" as the song goes and let the New Year in with enthusiasm. In connection with the points raised in China Highlights, take what you can especially the insights that jive with your thoughts. Respect the customs and tradition of other countries and as a Filipino, learn to live with more good in your life. Regardless of cultural differences, we have one basic desire: to have a happy new life therefore Happy New Year! Kung Hei Fat Choi (y) (y) (y)